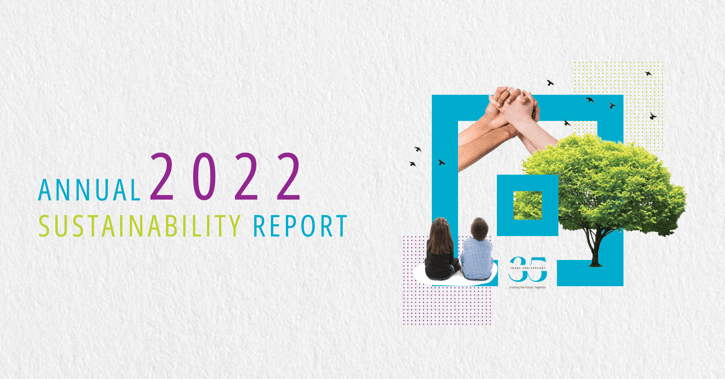 Our 2022 Sustainability Report is here!
We are thrilled to announce the release of Printec's Annual Sustainability Report for the year 2022, a significant milestone that coincides with our 35th anniversary. This report is not just a reflection of the past year's achievements but also a celebration of Printec's history, values, and the path we've paved towards a more sustainable future.
A Glimpse into Printec's history and milestones
As we embark on this remarkable 35-year journey, we're taking a moment to look back at our history and the milestones that have brought us to where we are today. To share in the celebration, we invite you to scan the QR codes within the report, allowing you to delve into a visual journey through our past, watching videos that showcase Printec's evolution over the years.
A Transition from CSR to ESG
In this 2022 edition, we introduce our revamped sustainability strategy. We have transitioned from Corporate Social Responsibility (CSR) to Environmental, Social, and Governance (ESG) as part of our commitment to building a more sustainable future. This shift signifies our dedication to not only mitigating our environmental impact but also to positively influence society and governance, reinforcing our commitment to making a lasting, positive impact and a better world.
Aligning with the UN Sustainable Development Goals (SDGs)
At Printec, sustainability is not just a buzzword; it is an essential component integrated into all facets of our operations, not merely a passing buzzword. Since 2014, we have been closely aligned with the United Nations Sustainable Development Goals (SDGs)*. Every aspect of our business is now directly linked to these global goals, highlighting our dedication to contributing positively to our shared future.
Celebrating Our Global Presence
Since Printec operates in 16 countries, forming a global community is at the core of our operations. This year's sustainability report features a photo collection that showcases the countries where Printec has a presence. These captivating images emphasize not only the beauty and diversity of the regions in which we work but also our responsibility to preserve these natural treasures for future generations.
Our people and looking ahead
As we celebrate our 35th anniversary and present this annual sustainability report for 2022, we remain committed to our values, purpose, and future plans. Our journey towards sustainability is a collective effort, and it wouldn't be possible without the dedication of our incredible team; a diverse and united team with a shared passion for sustainability and making a positive impact is the driving force behind our continued dedication to society's well-being.
We invite you to explore the Annual Sustainability Report 2022 and join us on this journey towards a more sustainable and responsible future.

(*) Since 2014, when Printec first became a signatory member to the United Nations Global Compact initiative (add link), our intention has been to strengthen year by year our environmental and social impact, joining the efforts of other member companies and global organizations towards a sustainable future, the world "We want".
As One Team of more than 900 people, expanded in 16 countries, in Printec we operate responsibly and seize every opportunity to make a positive impact on the communities we serve and the industries we affect as a whole.