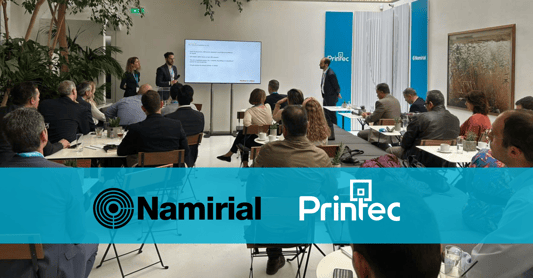 On 7 March 2023, Printec co-hosted with Namirial the event "Discover the potential of digital trust services" at the Museum of Cycladic Art in Athens.
Surrounded by the Cycladic culture & art and themed around the diverse applications of digital trust services, representatives from Printec, Namirial unlocked the potential of the solutions and ran through the companies which have already adopted them in Greece.
An end-to-end portfolio covering solutions such as Identity (Identity proofing, Authentication, Electronic identity), Signature (Remote and in-person signing, Signing digital certificates, Consent Management), Document (Certified communication, Consent management, Electronic Invoicing).
Even if there are many companies in Greece that have incorporated our joined solutions within the banking, insurance, and energy sector since 2015, this event was set to propel digital trust services and their benefits that could apply across all industries.
Representatives from our existing clientele presented their views and experiences on how they have transformed their way of working with such solutions through case studies; Eurobank, Ergo & Coral.
From physical signing documents to posting emails and manual processing, these companies achieved improved customer experiences, paperless technology, legal validity, and efficiency via the digital trust services powered by Printec & Namirial.
The EU regulation on electronic identification and trust services for electronic transactions (eIDAS) was also part of the event's agenda. Member from Enisa (European Union Agency for Cybersecurity) shed light on the legislation landscape, updates, and requirements on trust services.
The event rounded off with a delicious brunch at the premises of the museum and a private thematic tour of the permanent collection.