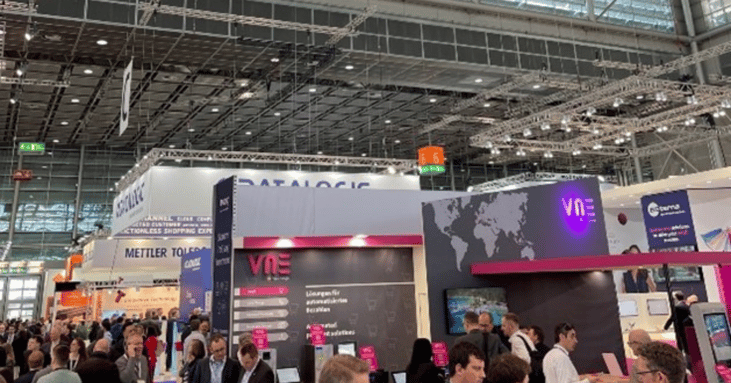 Sustainability, connectivity, and customer centricity are some of the hot topics during this year's EuroShop trade fair. Held every three years in Dusseldorf, EuroShop is the world's biggest trade fair, highlighting the latest technologies, products, and solutions in the retail industry.
Among 81,000 attendees, colleagues from Printec Slovenia, Croatia and Group travelled to Germany to reconnect with the global retail channel, get insights on the latest technologies and find out how to apply these models in our business solutions and products.
Let's take a look at four key insights shared by our colleagues who attended Euroshop 2023:
Customer centricity
Focus on customers and their needs. More and more companies are now seeking ways to get even closer to their clients to offer a unique personalized and customer experience. Solutions such as digital consulting assistants, personalized offers, digital coupons, and loyalty systems offer an individualized customer journey, helping retailers connect with their customers and build a stoner relationship with them.
Smart stores
The era of automated store concepts and solutions has been well-established in the retail industry and many of these concepts were presented during the fair. Digital and unattended solutions that enable a seamless and autonomous shopping experience. Our colleagues visited many booths from (some existing) partners and suppliers and witnessed solutions such as NCR's cashless self-service checkout, Elo's self-service kiosk for ordering, paying and checking-in and Glory's cash automation & cash recycling solutions.
Connected retail
Creating a seamless omnichannel experience was also a big part of Euroshop's agenda. As online and offline retail continues to blend, processes such as click & collect digital fulfilment and cross-channel communication have become the new norm. Colleagues from Printec had the chance to meet with representatives from the Lithuanian company Lanksti Linija and the Croatian Grupo and discover their automated parcel delivery locker and drop-off self-service package solutions, which are ideal for distributing, receiving, sending, returning, and collecting packages.
Sustainability
Sustainability is becoming increasingly important in all industries and especially in the retail one. Many retail companies are working towards making the solutions, models, and processes more sustainable for the climate but also for their customers. During their shopping process, customers are paying more and more attention to how stores and brands present and implement their sustainable efforts. Exhibitors presented numerous sustainable suggestions and acts such as biodegradable store-fitting materials, reverse vending machines for recycling, resource-saving air conditioning and refrigeration solutions.
These takeaways are just a glimpse of all the great products, solutions and processes that have been presented in this year's Euroshop. We would like to thank our colleagues for sharing their valuable insights with us.
Let's keep on creating unique customer retail experiences together!