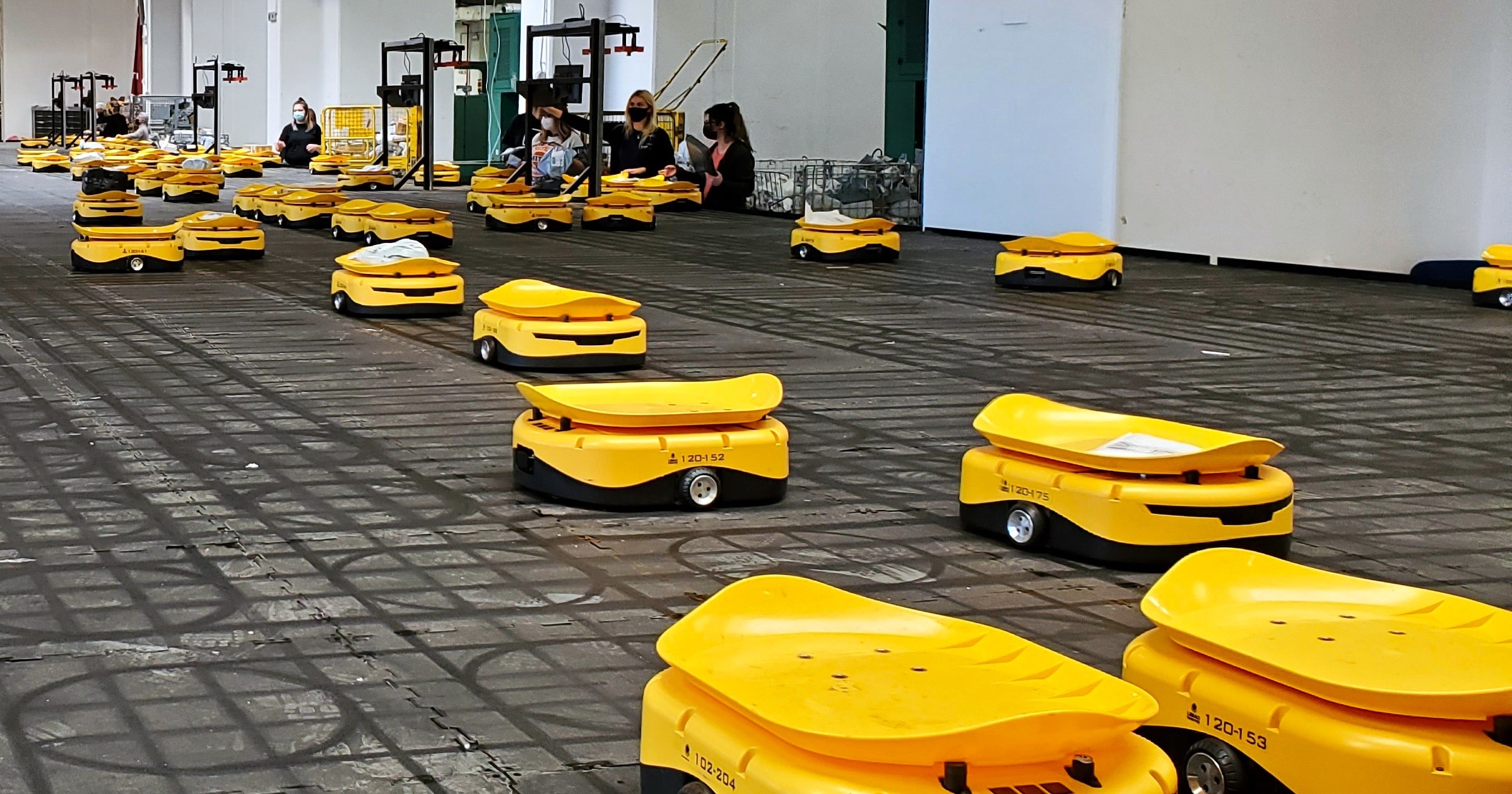 Printec and Libiao improve efficiency and quality of logistics operations by providing automated solutions in logistics sorting, based on the core technology of robots
Printec, a leading provider of transaction automation solutions with presence in 16 countries across Central and Eastern Europe has entered into a technology alliance with Zhejiang LiBiao Robot Co., Ltd. (hereinafter referred to as "Libiao"), the global pioneer of intelligent sorting robot innovation and flexible sorting solution provider, the company that created the world's first portable, modular, automated unit sorting system for logistics operations.
Libiao's sorting systems based on AMRs (Autonomous Mobile Robots) are far more compact than other AMRs with smaller footprint and higher capacity. Due to their size, the robots require low capital investment, they are quick and easy to set up with high throuput and accuracy, while providing a wide range of capabilities and applications. The modular system is scalable and the technology is fully portable, meaning technology can be easily reallocated between sites if necessary.
So far over 20,000 Libiao robots are active across China, New Zealand, Australia, the USA, Europe and South-East Asia, at a number of client facilities. The company estimates that roughly 5 billion parcels / items are handled by their models every year.
"At Printec, we are always looking for ways to innovate and offer new solutions and services to our customers" said Georgia Botsika, Cluster General Manager for Greece & Cyprus. "Driven by our vision to support our customers' digital transformation, we are working with best in-class technology vendors to offer state-of-the-art solutions. We are convinced that Libiao will contribute greatly to our business strategy and bring significant added value to the solutions we provide to our customers."
"Glad to have Printec as Libiao's partner, we 'll be closly working together to promote our robot sorting system in the market !" said Ronan Shen, Overseas Sales Director at Zhejiang Libiao Robot Co. Ltd.
Through this alliance, Printec will provide superior customer experience by offering a flexible and scalable sorting solution with fast deployment cycle (2 weeks – 2 months), of high capacity and low capital investment. At the same time, Printec customers will benefit by reduced order-to-delivery times with lower operating costs and high accuracy, while end customers will be served in the fastest possible way with error free processes.
Printec will be a Libiao partner in all of its operating countries, with exclusive partnership in Greece and Cyprus.