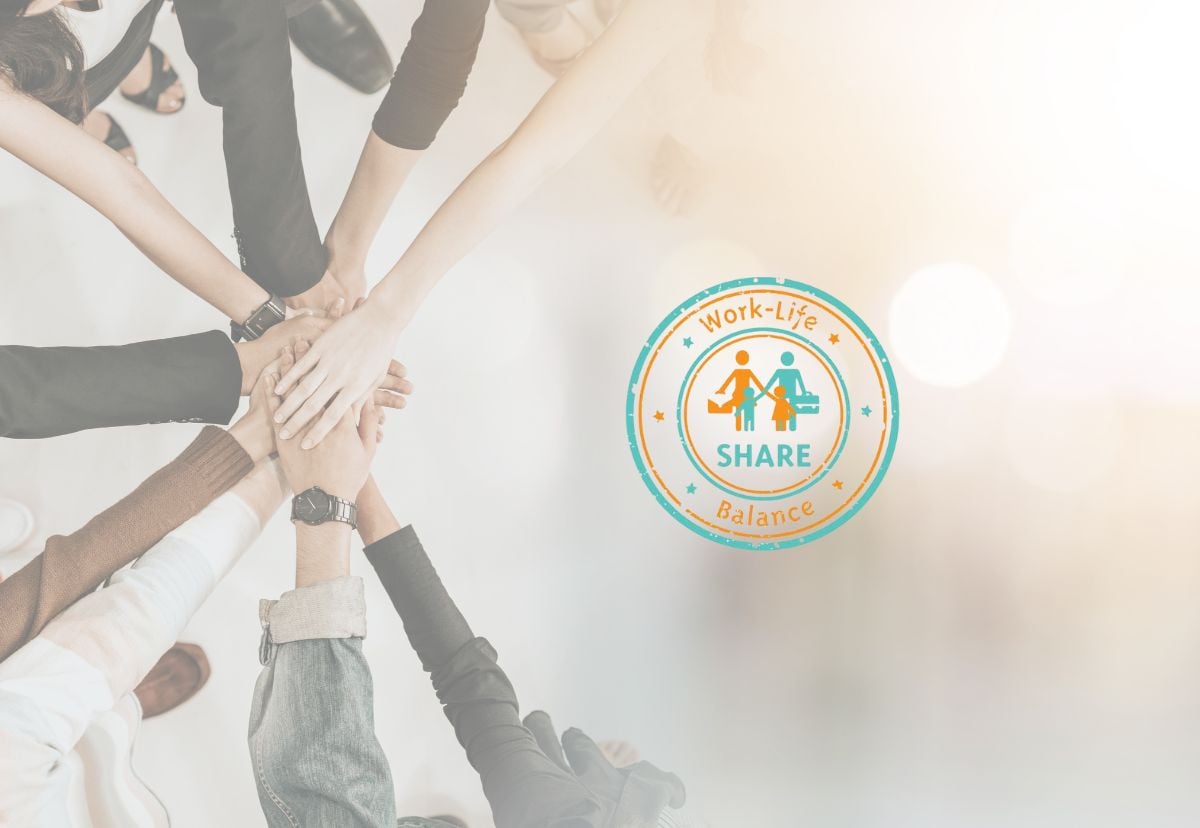 At Printec, we aspire to create an environment where everyone feels valued, respected, and empowered to unleash their full potential at work. In this light, Printec Greece, among 18 companies, received the Share Equality Label for the first time at the beginning of 2022.
The label reflects Printec's focus on promoting gender equality in the corporate environment, fostering an inclusive organizational culture by implementing initiatives to tackle traditional gender roles & implicit biases, as well as practices highlighting fathers' involvement in the family life and thus enhancing work-life balance for all employees.
Receiving this label validates our efforts to foster a workplace culture that supports and encourages authenticity, respect for diversity, and open communication, enabling psychological safety and inclusive leadership.
At Printec, we strive for gender equity, work-life balance and inclusive culture through the following actions:
Equal opportunities: We are committed to providing equal opportunities for career advancement, promotions, and leadership positions to individuals of all genders.
Pay equity: We take proactive steps such as regular pay audits to ensure equal pay for equal work.
Measurement and accountability: We monitor gender equity progress by regularly collecting and analyzing data on gender representation, pay equity, promotions, and employee satisfaction and we are using these insights to plan targeted actions and improvements.
Anti-sexual harassment policy: We have established a clear and robust anti-sexual harassment policy to ensure a safe and respectful work environment.
Work-life balance: By offering flexible work arrangements, such as remote work options and flexible working hours, we enable our employees to achieve a balance between their professional and personal lives.
Paternity leaves: We offer equitable and inclusive paternity leaves to promote the father's role in family caring duties.
Training and awareness: We invest in training programs that promote gender awareness, unconscious bias mitigation, and inclusive leadership. These initiatives help to create a culture of respect, empathy, and understanding and encourage behaviors that support sex equity.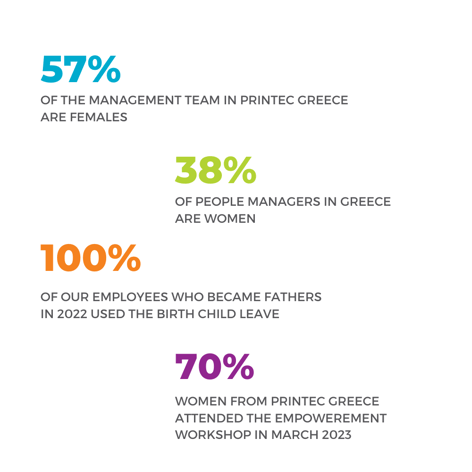 Our 2023 activities
Our activities planned for 2023 were kickstarted with an empowerment workshop on setting boundaries and negotiation skills to celebrate International Women's Day in March. As part of our dedication to offering a family-friendly environment and supporting Printec parents to achieve work-life balance, a Kids Day took place in our office premises with a get-to-know Printec workshop, educational activities, and painting sessions in April, to enable children to learn more about mom's & dad's workplace and spend time there. Additionally, we offered our parents a Kids Camp discount for the summer months. However, our efforts do not cease, and more initiatives are planned such as an interactive workshop for our People Managers to cultivate an inclusive culture.
Through these dedicated initiatives, we strive to translate words into actions, create awareness within the organization and honour our Share label in the best way possible. We are proud that our people have embraced them, which paves the way to keep going and continuously improving.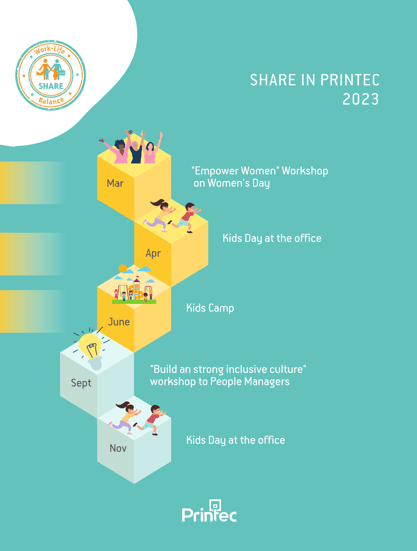 What is SHARE?
SHARE Project aims to contribute to tackling traditional gender roles within the family, promote work-life balance, and highlight the part of the fathers within the family to encourage them to share equally with mothers the duties of caring for children and the elderly and weak family members.
SHARE is an EU project implemented by the General Secretariat for Family Policy and Gender Equality, the Equality Research Center, and the Women On Top Organization for Women's Empowerment. It is addressed to small, medium, and large enterprises who wish to be considered for the SHARE Equality Label.
Find more about Share here