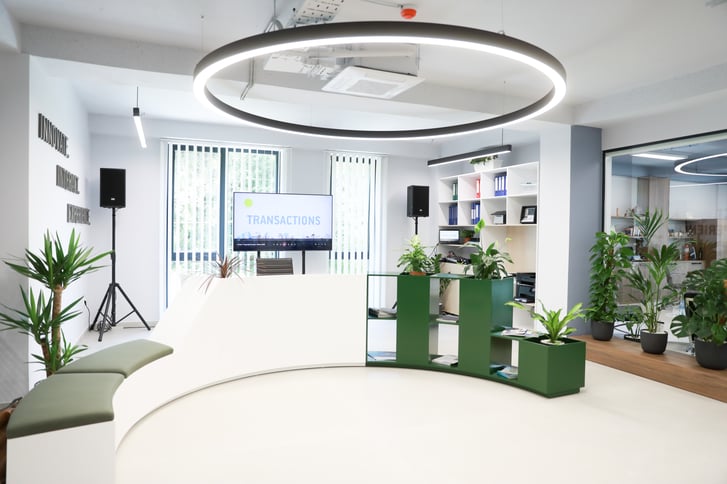 On 1 June 2023, Printec Albania turned a page, moving to its brand-new office premises in Tirana. As our people are our most valuable asset, we constantly strive to create a positive work environment, through which they can thrive and grow.
The idea of relocating and renovating our new office came up in 2020, but due to COVID-19 and the pandemic, it got pushed up until 2022, when our team in Albania initiated the hunt for our new space in Tirana. Tremendous efforts have been made by the core renovation team along with real estate agents to find an office that fulfils all our needs and aligns with our corporate policy and shared values. Having in mind that our work environment shall reflect innovation, teamwork, flexibility, and sustainability, we landed on our 500m2 premises in January 2023 and started the renovation process. Establishing Printec Albania in a new space was essential, enabling us to keep a pulse on all developments, and better serve our customers.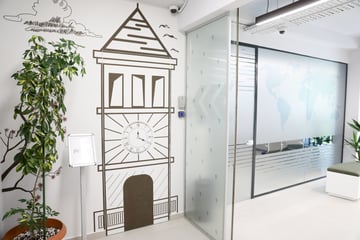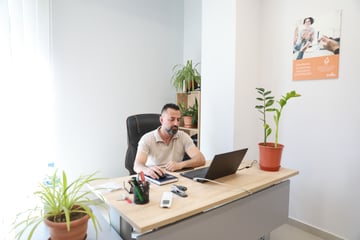 The office is located in a brand-new building complex next to an eco-green area, the Grand Park of Tirana. Delivering a working space close to green space and incorporating indoor plants within our office was one of our utmost requirements, as it creates a healthier ambience for employees, higher productivity, and nudges people to walk outside in nature during our break or before/after work. Our commitment to designing a workplace that fosters collaboration, innovation and boosting inspiration came through our new offices.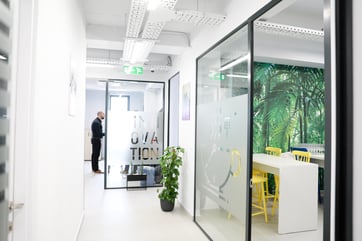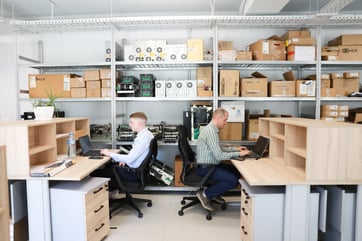 "Our newest office is here, and it is a fantastic moment for us! We are very proud of how our office turns out, and we hope our colleagues can thrive and grow in it. We are convinced that we are all an integral part of the common success. The new place where we now work is considered our second home and I am thankful to everyone for their contribution." Adrian Shehu, Country Manager Printec Albania
As the new premises combines our operational team, CS operation, Repair Center and warehouse, we wanted to ensure that all our people will work with efficiency and effectiveness. Therefore, we considered every team in every step of the renovation, from the layout, branding, and amenities to the sustainable elements, modern look and tech infrastructure. While moving to the office is always very exciting, it can also be challenging until employees feel adapted and settled in the new environment. For this reason, we have formed a dedicated project team consisting of experienced professionals who oversee the entire process, from planning to execution. Their expertise helps us minimize any operational impact on our partnership and ensure a smooth transition.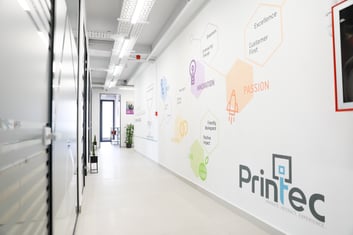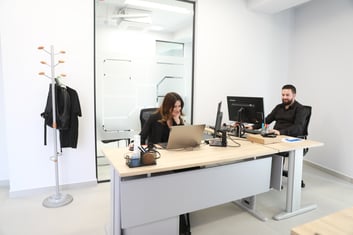 As we embark on this exciting journey, we hope this new office will enhance collaboration, improve employee experience, boost productivity, and further deliver exceptional services to our clients. A space that emphasizes employee well-being and contributed to the continued success and achievement of our business objectives. A space where our people, clients and partners can feel welcome and work comfortably.
To celebrate the opening of our new office, we hosted an Open House for colleagues, partners, and customers to visit our new premises to raise a glass!