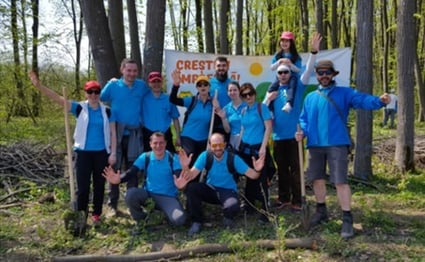 We Care is the program we have developed to include all the activities and communications that involve the well-being of our people and our responsibility towards society and the environment (CSR).
This program runs group-wide and involves every single person in Printec; it is formulated in a collaborative and inclusive way, taking into consideration not only the ideas and capabilities of each country, but also the areas that each person cares about.
Our We Care program is comprised of 3 pillars: For You, For Society & For the Environment.
Our first pillar, For You, includes all the activities, benefits and options that allow our people to create a better work-life. We improve our workplace with more comfort and creativity, while introducing flex-work programs. We encourage teamwork and collaboration. We also have perks for our colleagues like special discounts, transportation or fitness subsidies, and tickets to museums and theaters.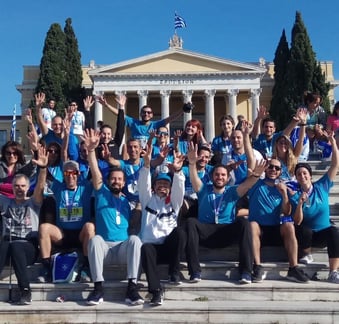 We believe that a good physical and mental health will improve the quality of our work. This is why we run programs around stress release and nutrition; some of our activities include a 24/7 Employee Assistance Program, on-site pilates classes, marathons, and blood banks.
We want to enjoy life as well as work. We celebrate our achievements and embrace challenges by participating in team building activities, allow some time to relax in our play rooms and organize parties for our people and their families. We also focus on professional growth by motivating our teams to take individual learning opportunities in technical as well as non-technical fields.
For Society includes all the activities and partnerships we are working on in order to offer back to the communities in which we operate and we live in. Through these activities we try to share our technological expertise and to provide with goods, services or time those in need. Our people across our countries volunteer, collaborate and are involved in social actions, making themselves, their families and our company proud of their work.
Until now, our colleagues have implemented 20 different activities group-wide offering food, clothes, educational material, medicine & vitamins to 15 organizations for children & families in 7 countries.
Additionally, our developers have created a new software application for EFT-POS terminals in order to allow for a specific amount to be donated through a contactless transaction, making it easier for people to donate money to a non-profit organization with a single tap.
We also participate regularly in educational events, science festivals and tech exhibitions.
One good example is a long lasting partnership we have with a pre-school NGO that provides a school environment to children in need. We support this organization by donating food supplies, clothes, toys, and books, and we also cover the speech therapy expenses and the breakfast supplies for the children on an annual basis.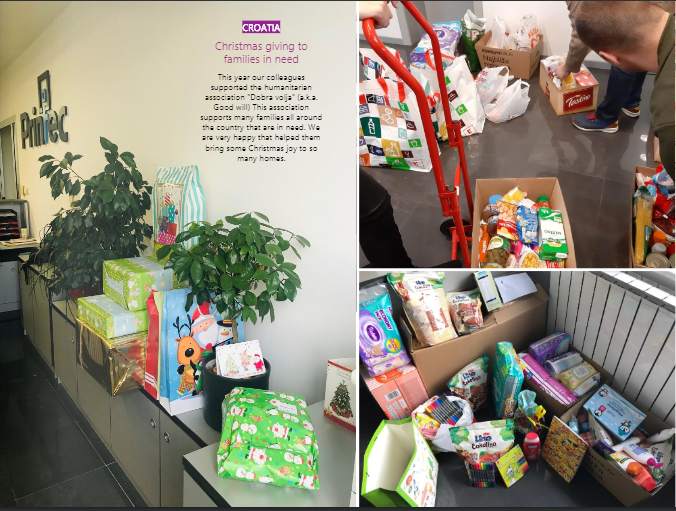 "I am very proud of the people I am working with, I am very thankful for their response, activity and for all the projects and initiatives we have on a corporate level, and enormous gratitude for the CSR principles embedded into our working processes. I am sure we shall prolong with zest our contribution to a better society, so we can have happier people and healthier environment and stronger communities" - Yuriy Eysmont, Ukraine
For the Environment promotes the principle of sustainability and environmental consciousness throughout our company. We operate in an industry that is not on top of the list when it comes to environmental impact, but we still consider this a priority and we try to work efficiently and with the smallest possible environmental footprint.
One of the ways we can contribute to the sustainability cause is by helping businesses digitize their consumer interactions, reducing paper-based processes and unnecessary transportation. We also encourage responsible consumption of plastic, limiting the use of single-use plastic in our offices, and we try to use environmentally-friendly technology such as LED lighting in our operations. We also run initiatives like planting trees and cleaning beaches, where our people have the opportunity to do good while having fun with colleagues or their families.
"From the very beginning of the We Care Program, even before we launched it, we knew that people wanted to participate in CSR activities. However, we could never imagine the extent of their participation. The program was immediately embraced by our people and sponsored by Management. Every activity that we organize is received with a very positive reaction. We are always excited to do new things and we are having a lot of fun in the process." - Irini Ioannidou, Member of the CSR Committee GROUP