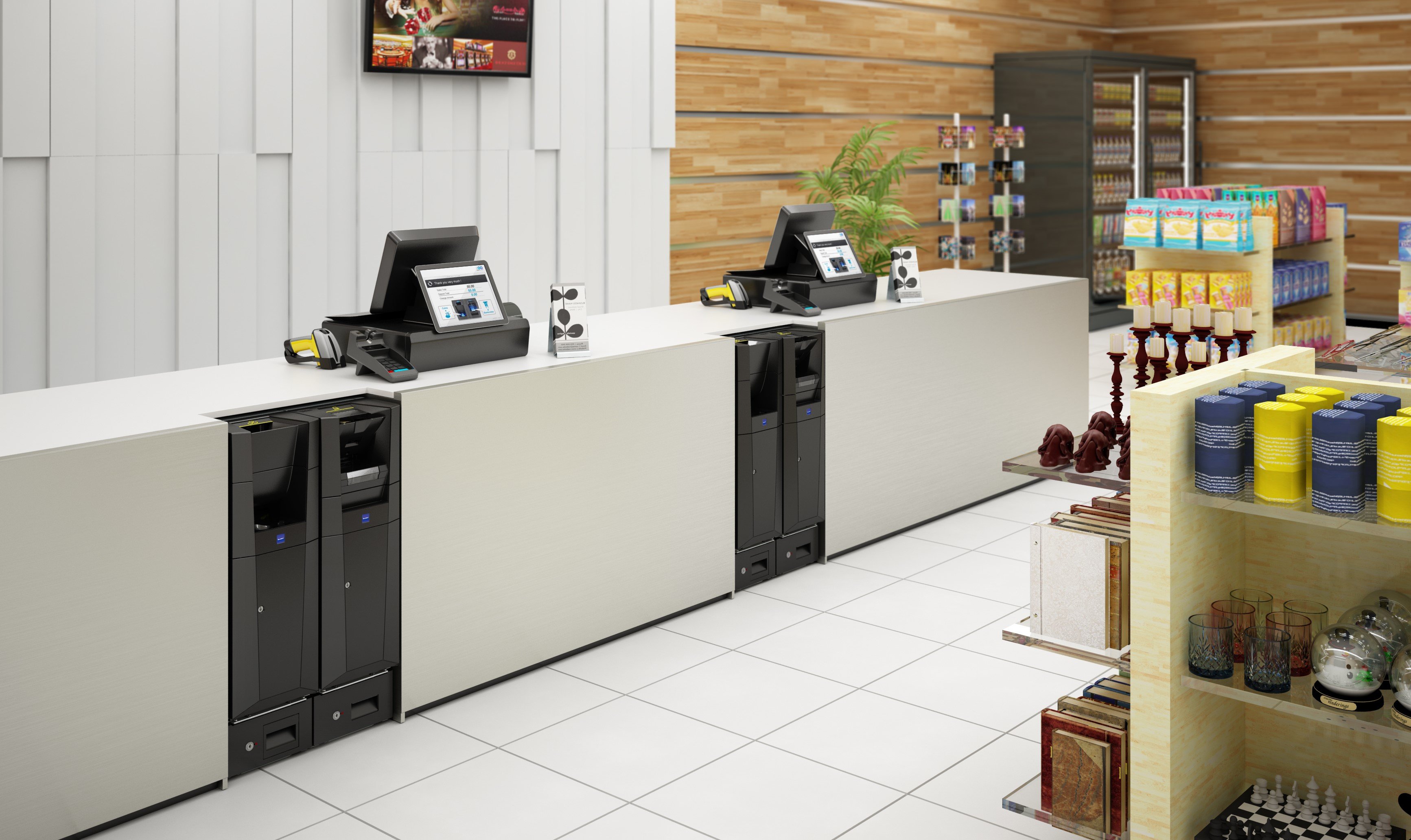 In the recent years, card payments started taking over cash, with cards looking like they are becoming the natural choice of payment today. But cash is still the most significant means of payment and is expected to remain very important for consumers, with cash payments today representing more than 80 % of all payments at a global level.
Since people won't let cash go, what can businesses do to make the most out of it?
They need to ask themselves how they can optimize cash management in a way they will reduce their own costs and risks, but also increase time to profit. To get the best out of cash usage, a retailer must be able to move cash from the customer's pocket to their bank account in a quick, efficient and secure manner. In other words, retailers need to optimize the Retail Cash Chain.
Significant benefits to this cash chain are brought by the application of four techniques: "Authenticate", "Secure", "Automate" and "Accelerate". These four techniques optimize the value of cash and act as enablers to deliver value to levels beyond physical limitations, turning cash into the next Electronic Payment. This reflects the evolution of cash, which now seems much more like the evolution of credit and debit payments – moving from use of paper coupons and phone authorization to electronic payments.
But what is an "Electronic Payment"? It is simply a concept of "provisional" or "same day" credit. Thanks to technology cash is authenticated, secured and automatically processed, so that the retailer's account can be credited on the same day.
Cash chain optimization is an efficient way to improve performance of cash handling and cash management for retailers. Change is a large part of the cash chain and the party responsible for collecting them and delivering them back to the retailers are the CIT companies. This is a high-risk process which is both costly and time consuming. Retailers, though, have another option: instead of having change delivered by CIT companies, they can start recycling cash. They have two options when it comes to cash recycling and they can select either modern POS terminals or the respective back-office solution. Always keep in mind that cash recycling must be a reliable and secure process; automating this process is the key to avoid human errors when counting and distributing cash.
Glory Global Solutions is one of the world's leading providers, bringing innovation to the end customer through their technology. Their solutions are transforming bank branches, retail stores, cash centers and casinos, eliminating manual cash processes and disengaging staff to focus more on the customers and their experience. Glory enables a confident world for a better tomorrow. Their latest CashInfinity solutions for both front and back office offer remarkable smart cash management.
With CashInfinity solutions cash transfers are made more secure and more efficient. Sales staff doesn't need to handle cash personally and manually anymore, eliminating human errors and freeing up their time to focus on delivering high-quality services to the customers. The CashInfinity front office solution not only collects, counts and manages cash, but also authenticates money, identifies any counterfeits and dispenses the right change. The back-office solution prepares cash for banking or reuse in store. Notes and coins can be automatically recycled, reducing the need for Cash in Transit (CIT) collections and deliveries. Counting and handling is automated in the back office, cutting out both human errors and potential theft that lead to cash shrinkage.
CashInfinity makes stores stand out and has a positive impact on the retail cash chain offering efficiency, confidence and performance. It is an ideal solution that reduces costs, eliminates not only human errors but also thefts, reduces the need for CIT company and the time spent on cash handling. Most importantly, though, staff can focus on connecting with customers, building strong relationships and providing superior experience.