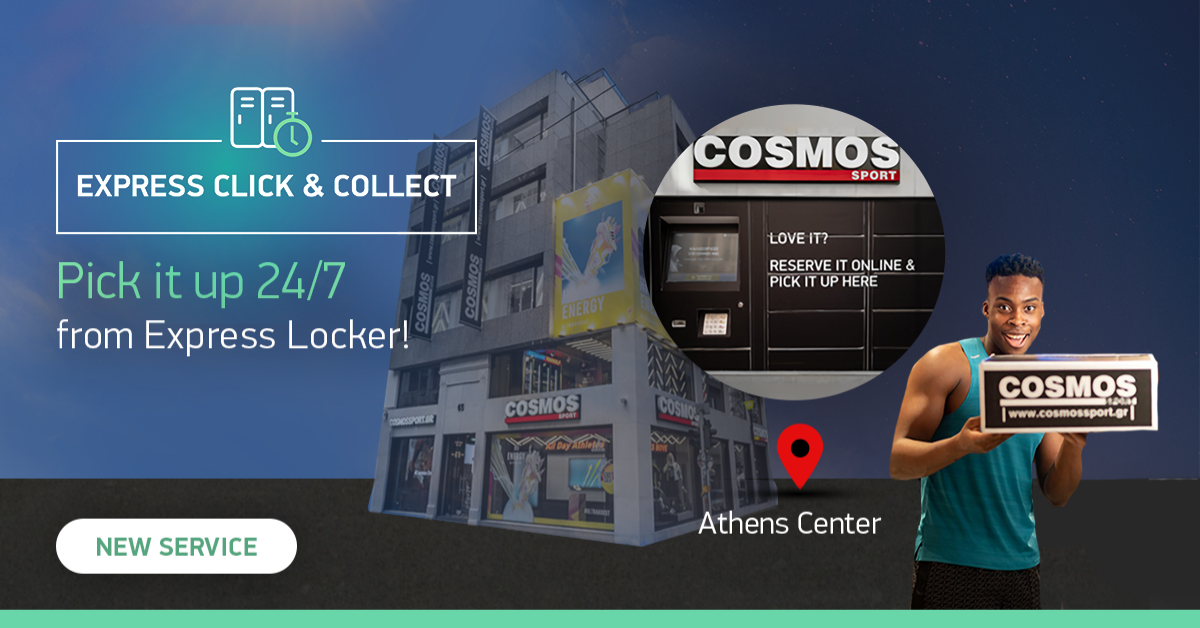 Cosmos Sport, in collaboration with Printec, have installed StrongPoint's smart lockers in the window of the sport's chain store in the center of Athens, allowing customers to easily pick up their online orders. The new Express Click & Collect 24/7 service is a new way for customers moving in the center of Athens to receive online orders, without entering and waiting in the store.
As we are well into the summer season with more and more people moving in the city center either for work or simply strolling around, can you think of an easier way than ordering our new sportwear and picking them up round the clock, without even having to go through the checkout in the store? Cosmos Sport, in collaboration with Printec, offer a new option for 24/7 pick-up of pre-paid orders through a special locker in the store's window at Ermou street, one of the busiest streets in Athens. No more stressing over the delivery or waiting around; our order will be patiently waiting in the locker for us to pick it up at our convenience.
This new service is extremely simple and easy to use as customers can complete the whole process with a few clicks. Specifically, by accessing cosmossport.gr and completing the order, customers can select Cosmos Sport Ermou as pick-up point, pay for the order online and, once they receive the relevant notification on their mobile phones, they can pick up the order from the specially designed locker 24/7.
Smart lockers are a flexible and easy to implement contactless delivery point that can help any retailer transform the way customers buy and receive products. Cosmos Sport, always pioneers in the field of customer experience, leverage this solution to offer flexibility, speed and a fully digital experience to their customers.
"We are extremely proud of this project, as it is the first time we've worked with Cosmos Sport and, in fact, on such an innovative solution that improves the experience of end customers and facilitates the purchasing process. Our goal is always to combine the latest technologies with our extensive experience in transaction automation and translate the unique needs of our customers and market into innovative solutions", commented Konstantinos Sideropoulos, Senior Sales Manager for Greece and Cyprus.